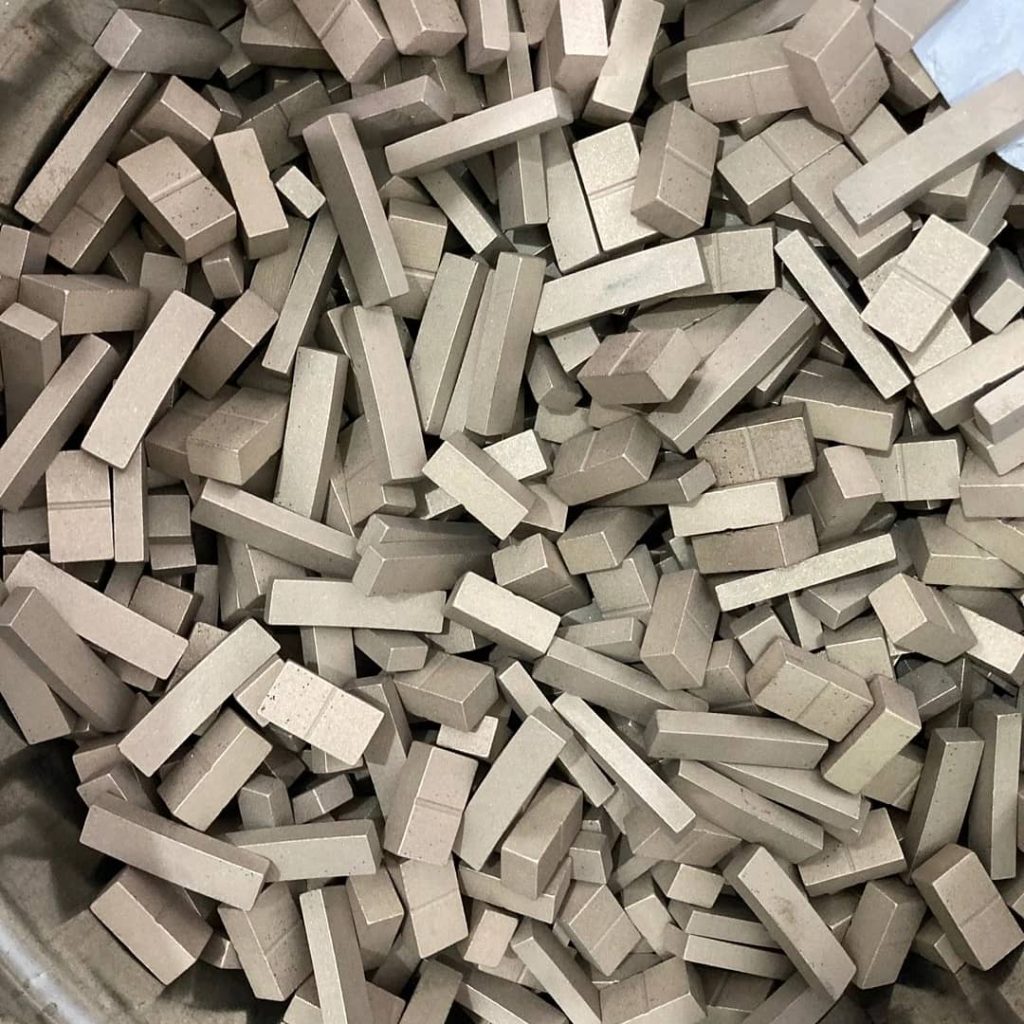 Linxing's marble segments has experienced more than ten years of research and development and innovation. At present, the marble segments has stable performance, unique craftsmanship, long service life, and high cost performance, which are favored by customers.
LINSING diamond segment features:
Marble segment is a diamond metal bond saw tips used on circular saw blade to cut marble. it is made of synthetic diamond plus different matrix or metal bonds in different ratio of metal powders. metal bond and diamond density will be somehow different as per different color and hardness of stone and stone cutting machine.
Cutting in high speed without chipping.
Long life span and stable cutting performance.
smooth cutting, flat surface and even size cutting result.
Good segment shape easy for diamond opening
Strict product quality inspection processes
High cost-effective
1.
The diamond segments has good sharpness and high efficiency at the process of cutting, meanwhile, it has a long lifespan.
3.
Stable cutting, narrow cutting gap, stone waste reduction.
2.
Good cutting result: smooth cutting, flat surface and even size.
4.
M-shape segment is easy for diamond opening.
Product application
Segment for edge cutting D250-D600mm
Segment for splitting D450-D900mm
Segment for D1200mm Multiblade block cutting 245(6)8(10)
Segment for D900-3000mm single blade block cutting

Product dimension
| | | | |
| --- | --- | --- | --- |
| Diameter (mm) | Steel Core Thickness(mm) | Segment Dimension (mm) | Segment No. |
| Φ300 | 2.2 | 40×3.2×8(10) | 22 |
| Φ350 | 2.4 | 40×3.4×8(10) | 25 |
| Φ400 | 2.6 | 40×3.6×8(10) | 29 |
| Φ450 | 2.8/3.0 | 40×4.0×8(10) | 32 |
| Φ500 | 3.0/3.2 | 40×4.2×8(10) | 36 |
| Φ600 | 3.6/3.8 | 40×4.8×8(10) | 42 |
| Φ700 | 4 | 40×5.2×8(10) | 42 |
| Φ800 | 4.5 | 40×6.0×8(10) | 46/57 |
| Φ900 | 5.0 | 24×7.5×8(10,12) | 64 |
| Φ1000 | 5.0 | 24×7.5×8(10,12) | 70 |
| Φ1200 | 5.5 | 24×8.5×8(10,12) | 80 |
| Φ1300 | 6.0 | 24×8.5×8(10,12) | 88 |
| Φ1400 | 6.5 | 24×9.0×8(10,12) | 92 |
| Φ1600 | 7.2 | 24×9.5×8(10,12) | 108 |
| Φ1800 | 7.5 | 24×10.0×8(10,12) | 120 |
| Φ2000 | 8.0 | 24×10.5×8(10,12) | 128 |
| Φ2200 | 9.0 | 24×11.0×8(10,12) | 132 |
| Φ2500 | 9.0 | 24×11.0×8(10,12) | 140 |
| Φ3000 | 9.5 | 24×12.0×8(10,12) | 160 |
Other specifications are available upon request.
What processes use diamond segments during marble processing?
Marble is a natural rock in nature, through mining, block processing, grinding, cutting, processing into stone carvings, shapes, lines, table panels and so on, is widely used in people's buildings and home decoration, in the process of marble processing, diamond segment is essential, covering most of the process, the following through the marble processing process, let us understand the application of diamond segment in all aspects of marble processing:
Marble mining, early marble mining is the use of blasting mining, although this way saves costs, but waste materials, and pollution of the environment, in recent years, wire saw and disc saw combination mining method in granite mines using the increasingly mature, with the experience of the front car, marble mines are now also beginning to use this way of mining, first with wire sawing out of the plane, and then through disc sawing, vertical and horizontal two-way cutting, and finally with wire sawing the bottom of the block and mine separation, And thus get neat and orderly marble block. In this process, the use of disc saws greatly accelerates the molding speed of block materials. Disc saw using two-sided saw blade, through the track, double segment forward cutting, in the saw blade, you need to use diamond segment, also known as marble mine segment, which is a major application of the segment in the mining process.
Marble squaring, if the traditional blasting method, the block edge will appear uneven situation, such block material in the cutting process will appear shaking, so the termination process is also essential, generally speaking, trimmed edge using trim wire saw or trim machine for block dressing, trimming machine using special flange plate fixed, marble block can be trimmed, and such saw blades also need to be installed diamond segment, this is the application of diamond cutting segment in the process of marble processing.
Marble block processing, block finishing edge, need to cut into plates or special specifications of special stone, at present, sawing, gantry cutting, single-piece combination cutting, cutting machine and two-way sawing machine is the most common cutting block machinery, of which, sawing can be Cut marble with higher hardness (suitable for cutting large blocks), gantry cutting and combined cutting with a diameter of no more than 3 meters of single saw blades (suitable for medium and large block cutting), while the marble cut by the mid-cutter and bidirectional sawmill is smaller (suitable for cutting small and medium-sized blocks), These machines are fitted with saw blades and diamond circular saw blades, using different segments corresponding to each diameter. Rough grinding, after cutting and forming the plate, the marble surface needs to be polished, the first step of marble polishing is to use horseshoe-shaped metal magic blocks for rough grinding of marble, this process, horseshoe-shaped module grinding products are a large diamond segment product.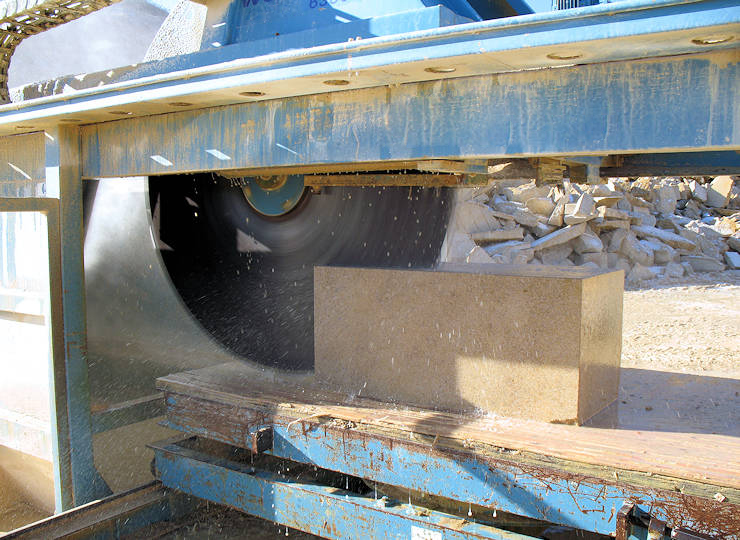 Cut edge, marble back glue and back mesh, need to cut its edge, that is, the specification plate or non-spec plate cutting, usually using infrared bridge cutter or hand-shake cutting machinery, to complete the separation of marble sheet, and finally, in accordance with our customized specifications to complete the cutting of slate. Mid-diameter blade blades with diameters of 300-600mm are widely used in this process.
Although the marble processing later there are more processes need to use the segment, such as marble grinding edge needs grinding edge wheel, and grinding edge wheel on the mosaic segment, there is a marble site construction need bowl grinding, bowl grinding bottom has a knife segment, marble table drilling will also need drill bit, drill segment also uses knife products.
Linsing diamond segment can be widely used in marble cutting, polishing, drilling and other links, is an essential part of the marble processing process, and our company to "quality development, service above" development concept, so that stone processing more convenient.